by Alexandra Gross, Reservation garden manager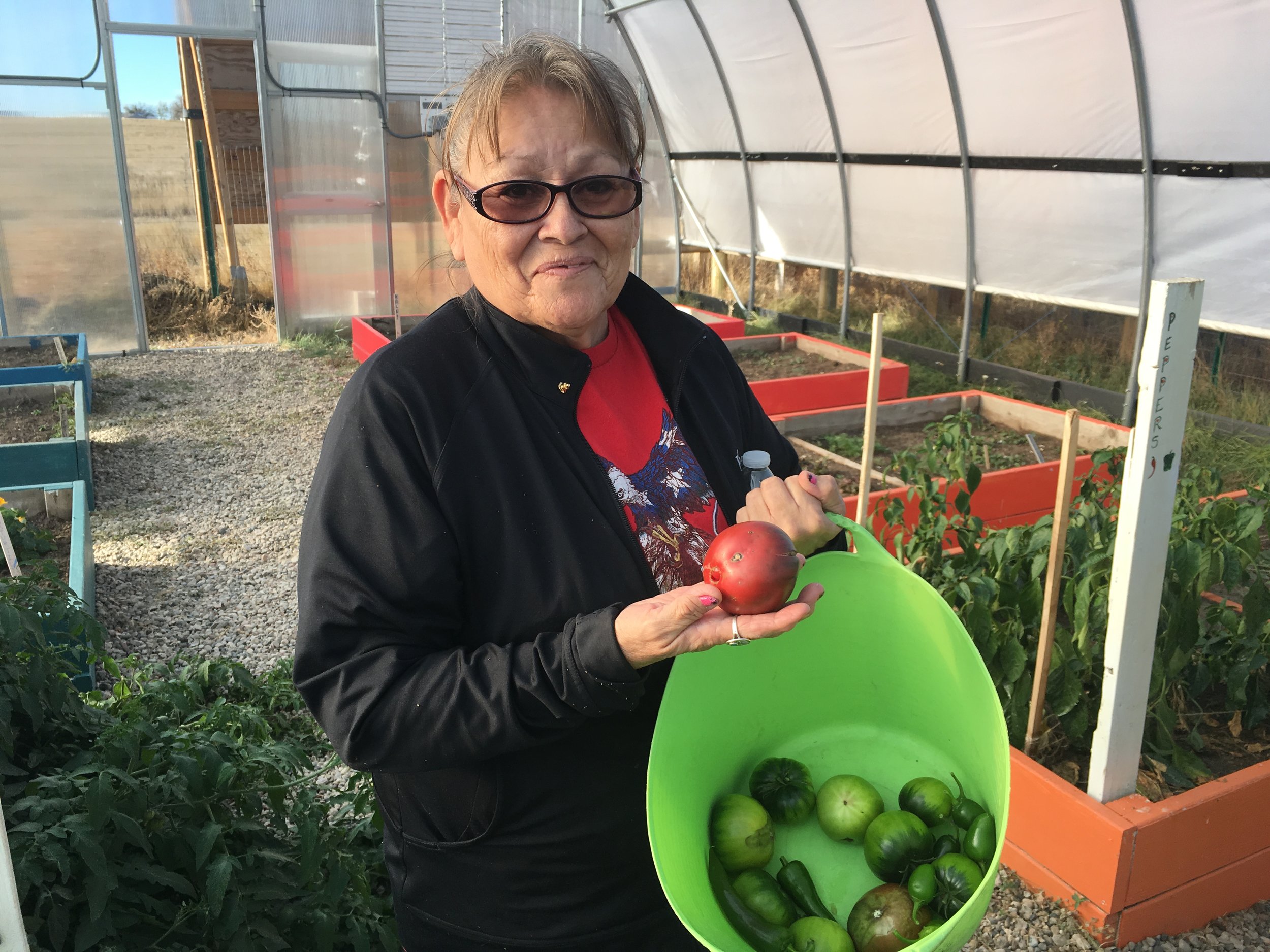 Over the course of this summer, I chipped away at Robin Wall Kimmerer's book, Braiding Sweetgrass. Kimmerer is a scientist, enthobotanist, professor and an enrolled member of the Citizen Potawatomi Nation. She's a gifted writer and philosopher who gives profound insight into the interconnectedness of all living creatures. One passage from her work continues to resonate with me: "A garden is a nursery for nurturing connection, the soil for cultivation of practical reverence. And its power goes beyond the garden gate - once you develop a relationship with a little patch of earth, it becomes a seed itself."
If you have a job that is dependent on Mother Nature, you learn to be humble. Good farmers and food growers acknowledge that they are merely facilitators and caretakers for bigger, natural forces. Sure, we can plant the seeds and hope to reap a harvest and a small profit, but much of it is out of our control.
What is in our control: How we choose to show respect, reverence and patience for the human and biotic community that surround and are a part of the garden.
The easiest part of my job, especially coming from a commercial growing background, is showing the quantitative value of the garden. I'm proud to say that, during the 2016 season, we produced more than 700 pounds of food. That's a lot of vegetables! This growth in production should be celebrated, especially watching the La Plant Grow Its Own Food project transform from a small, tomato-growing contest to a quarter-acre micro farm because of the many, generous hands of the Simply Smiles community.
But, how do I capture the most rewarding part, or the intangible benefits? I've seen a shift in some of the adults, whom I first met when I was a volunteer in 2013 when they were shy and slightly standoffish to now, when they approach the garden with great interest and pride. I've had the opportunity to mentor and work alongside many inquisitive, spirited kids who get truly psyched about working in the garden, selling the produce at their weekly farmstands, or leading garden tours, gaining authority and confidence with each passing week.
When I arrived in La Plant to expand the garden project in April 2014, the original plan was simple: Build a garden in a central location, and people will come. Well, turns out, it was and remains not that simple.
This is not to say that "going with the flow" became the adopted mantra - far from it! By just being in the garden space regularly, people - adults and youth alike - have shown interest in and embrace the garden in their own unique and meaningful ways. Pace and patience are two concepts that I've come to appreciate because people are showing up, they are eating the food, and they are participating.
La Plant Grows Its Own Food farmstand series 2016!
Seeds are taking root in La Plant: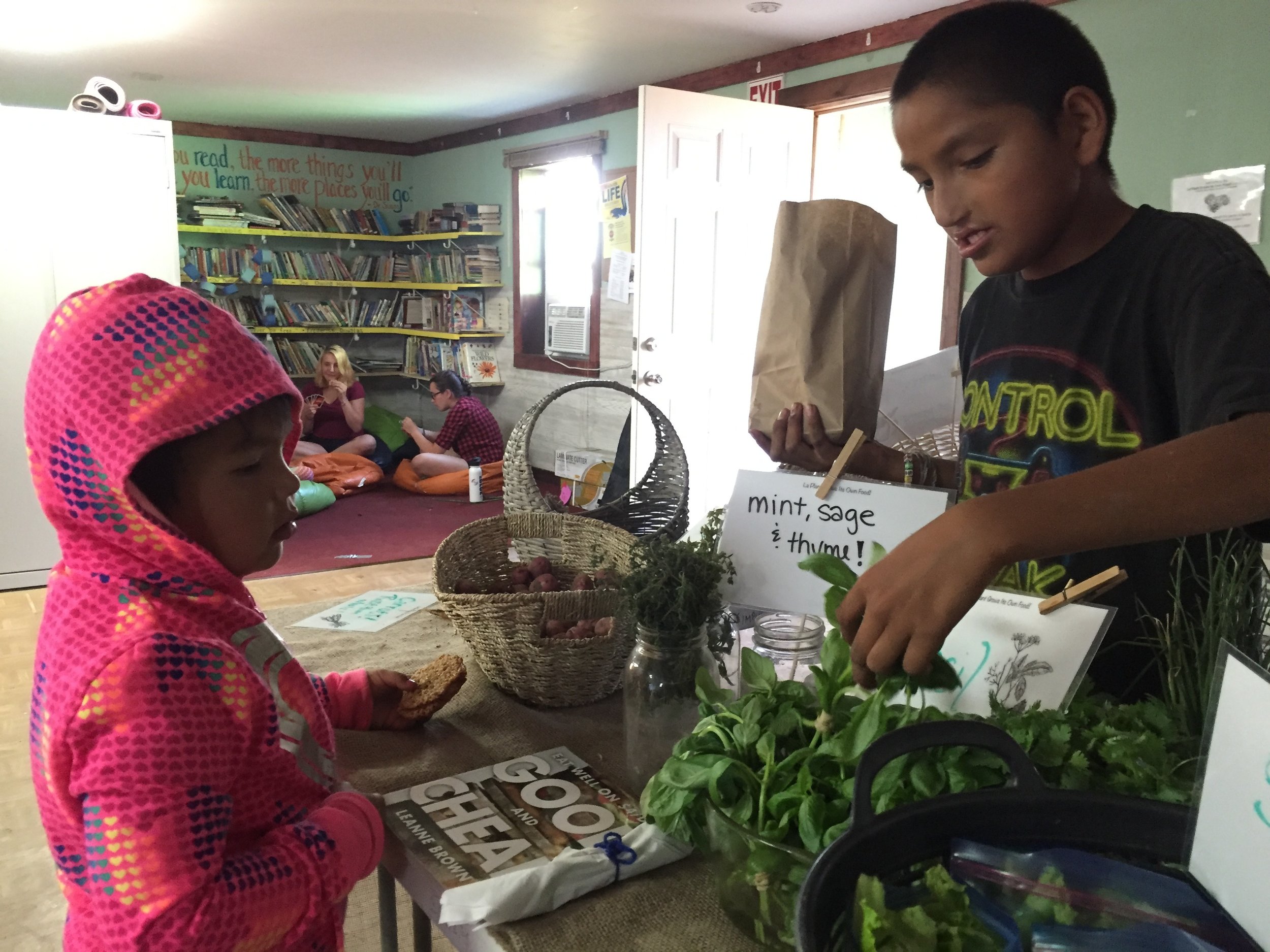 People in town attended the nine farmstands that we held throughout the course of summer and early fall. Individuals asked how to use vegetables, and neighbors shared recipes.
A young girl saved up some money to buy a cookbook at the farmstand. She wanted to test out some new recipes for her family.
In late summer, after a townwide meal, I watched a young father walk around the garden with his toddler son on his shoulders, pointing out different vegetables and flowers.
A man quietly stopped by the Community Center to learn more about a seed packet that he was given. He planned to plant the watermelon in his garden, but wanted to know if the fruit would grow in time for a family reunion in late summer.
A grandmother harvested young carrots with her granddaughter, both with wide smiles on their faces.
A young couple invited Zach and me to see their new garden in their backyard. We casually swapped tips and laughs, as you would with close friends.
During garden class, a girl said, rather casually, that the garden makes her feel safe…and less bored.
One of the youth garden assistants from the Reservation planted a garden around the perimeter of his house, providing weekly updates on the the height of his growing sunflower and asking when the seeds would be ready to harvest, eat, and save for the following season.
The garden is flourishing because presence - physically being there - is the root of the Simply Smiles philosophy. You can't run a garden from a desk in Connecticut, and I've been fortunate that I have spent a significant part of my three years with the organization living and working on the Reservation.
Every time I latch the garden gate, I leave the space feeling immensely hopeful. The garden has morphed into something more than the physical space of raised beds, a greenhouse, and a pumpkin patch. I've witnessed, quite visibly that kids and adults alike are seeing and planning for a future.
It's with the support and generosity of members of the Simply Smiles community that we have a garden and greenhouse, that these food growing initiatives can provide an electricity, warmth, and make growing local food on the Reservation a point of pride, celebration, and serve as a visible and exciting symbol of hope and change. Thank you!
The greenhouse!